Custom Printing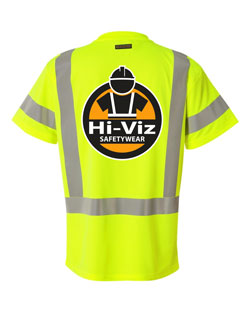 At Hi-Viz Safety Wear LLC, we screen-print in-house have an art department that can take your logo and prepare it for printing within 24 hours.
Using our state-of-the-art equipment and the finest ink on the market today, let our printing department put your logo on the chest, sleeve or full back of any garment.
E-mail your logo and let one of our Dedicated Logo Specialists help you determine the cost and appropriate placement of your logo.
E-mail: This e-mail address is being protected from spambots. You need JavaScript enabled to view it
Screen Printing FAQs
1) Does your FREE Shipping offer also apply to custom printed orders?
Yes. As long as the merchandise total of your order is $ 300 or more, we will ship your order via UPS Ground free of charge. We reserve the right to charge shipping charges on Net 30 orders.
2) How long does it take to process and ship custom printed orders?
Custom printed orders typically ship in 3-7 working days. Because we print in-house, we can offer Next Day Turn-Around or 2 Day Turn-Around on most items. An additional rush charge will apply. Call for details.
3) Are there any one-time set-up charges?
Yes. There is a one-time nominal charge per color that typically ranges from $ 20 - $ 30. Art charges may apply if vector (print-ready) artwork is not provided. There are no set-up or art charges on exact re-orders.
4) How much is the cost to print each garment?
The cost depends on the quantity of items ordered and the number of ink colors being printed. Please call or e-mail Customer Service for a quote. 1-888-554-4849 or This e-mail address is being protected from spambots. You need JavaScript enabled to view it
5) Is there a minimum order?
Yes. The minimum order for custom printed orders is typically 36 pieces for a one color design. There are sometimes exceptions made on higher priced items.
6) Can you print our logo?
Yes. If you don't have camera-ready artwork, we can take your logo and prepare it for printing. Additional art charges may apply if the logo is very complex.
7) Where can our logo be printed on the garment?
Your logo can be printed on the front, sleeve or full back of the garment. Most custom printed orders are printed on the left chest or the full back.
8) Can I place orders for custom printed garments online?
No. Custom printed orders must be called in, faxed or e-mailed.
9) Who can I contact if I have more questions?
Call Glenn at 1-888-554-4849 or e-mail him at